Shark Park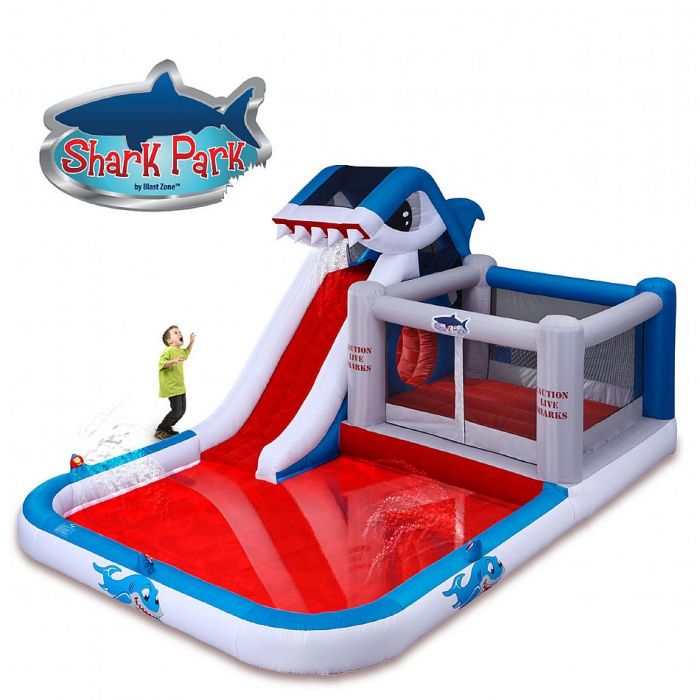 >>> OUR NEWEST UNIT!
A big water park with an even bigger personality!! Shark theme perfect for adventurous little mariners. Its huge size accommodates up to 9 children at a time
Up and running fast, inflates within minutes! One of our largest water parks, the Shark Park Ultra 10 in 1 provides a lot of bounce for the buck. With an 8' long slide, a 5' tall climbing wall, a 3 person shark tank bouncer, 80 square foot splash pool, sprayers and crawl tunnel, your kids will run out of energy before they run out of things to do in this play park
**please note the climb up the ladder to the slide can be difficult for toddlers / young children. We recommend always having parental assistance at the climber.
Inflated Dimensions: 19' L x 11' W x 8.25' H <<< please ensure you have the space!
Max Occupancy: 9 children total at any time: 1 Slide, 4 Bouncer, 4 Ball Pit/Splash Area (500 lbs max)
Recommended Age: 3+ (not intended for adult use!)
Features: Slide, Spray Cannons, Fun Theme, Huge Splash Area, Huge Play Park, Bouncer, Crawl Tunnel
Add a bag of 150 balls +$20/day
***************************************************************